How the coronavirus is impacting our local real estate market
Posted by Eric Ziemer on Thursday, March 5, 2020 at 2:23 PM
By Eric Ziemer / March 5, 2020
Comment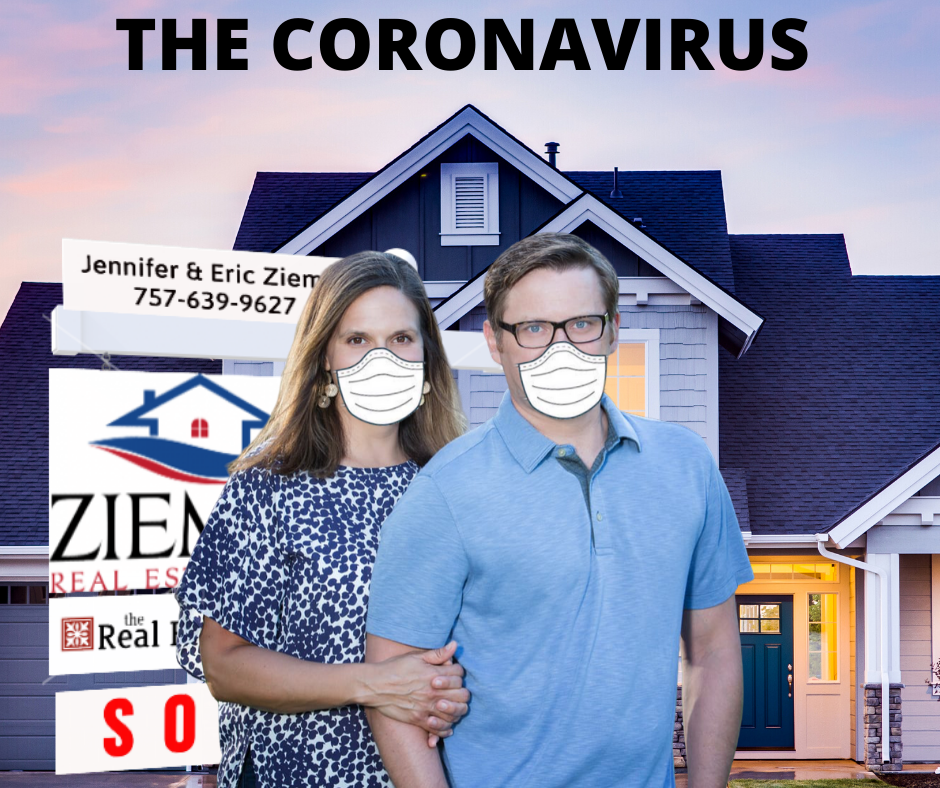 Whether you think that a global pandemic like the coronavirus are a real physical threat to us in Hampton Roads or not, there are definitely economic impacts that we are feeling on a local level.
Stock Market Trouble: The most noticeable economic impact is the drastic decline in the stock market. Stock market investors are always trying to time the market and predict what is going to happen in the future. In this case there is a risk that global productivity and growth will stall or go down if too many people are sick. This caused investors to start pulling their money out of the stock market and putting it into bonds and other "safe" investments. This sell off decreased the overall value of the stock market. Some would say the stock market was over valued, so a correction was on the way but none the less, people with significant investment in the stock market say massive amounts of wealth disappear over night.
Interest Rate Drop : The other impact that we will notice is on interest rates.
"The U.S. Federal Reserve announced Tuesday an emergency interest rate cut, lowering the target range for federal funds by 50 basis points to a range of 1-1.25 percent. The move comes amid global market uncertainty surrounding the spread of coronavirus, a deadly respiratory virus that has quickly become a public health crisis. "

This is a good thing for people looking to buy a home or refinance into a lower rate. We are now seeing interest rates in the very low 3%'s. Interest rates a year ago were predicted to be at 5% by this time. Thanks to the coronavirus that never happened.

How does this impact home buyers and sellers?

This is a double edge sword for buyers. Low interest rates are great for either lowering your monthly mortgage payment or for getting more home for the money. The bad thing with interest rates being so low is that it is increasing the number of buyers out there looking for homes to take advantage of the low rates. This is all happening at the same time we are seeing record low numbers of listings. So, to give an example of what this is like. It is like Busch Gardens saying that on 4th of July they are going to reduce the price of the entrance fee to $10.00 and only 6 of the 10 rides will be open. That would lead to a massive number of people trying to ride the same 6 rides which would be very frustrating. Now if you are a seller, this is a great thing. More buyers without more sellers means you are going to get more money for your home and be in charge of the negotiations.

How we can help buyers in this market

It takes a seasoned agent to know how to set their clients up for success in this kind of market. We have a proven strategy that works great for making sure our clients get the house they want. Here are some of the main points:

Time is of the essence: When a new listing hits the market in your target area, we need to be talking about it within an hour to schedule a time to go see it. With us being a team, between the team we will meet you at the home as soon as you can get there. We will also make sure that we are communicating our intent with the listing agent so that if they do receive another offer we don't lose out on the opportunity to submit a competing offer.
Crafting the offer: We want to know what is most important to the seller so that when we make an offer, we give them what they want. In a competing offer situation, we don't want to guess what they want. We want them to tell us.
Off the market listings: We have several strategies we use to try and find off market sellers. These are people that would sell if someone wanted to buy their home but haven't put it on the market yet. These are great homes to find because this removes the threat of competition from other buyers, resulting in a better deal for you.

These are just a few of the things we have learned along the way that make us a great asset in a home buyers home search. I guess you could say we are the magic bullet. Give us a call if you are frustrated with how your home search is going. We would love to step in and help.

The Ziemers