How to find a house in a seller's market
Posted by Eric Ziemer on Tuesday, April 25, 2017 at 7:23 AM
By Eric Ziemer / April 25, 2017
Comment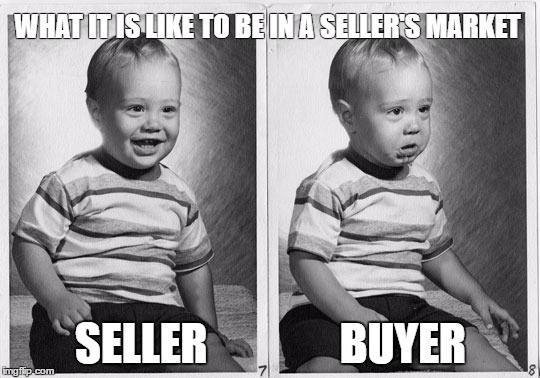 "What if my home sells and I can't find a home to buy?????"
In a seller's market like we are in, this is most common question that we hear. We understand that the thought of being homeless is pretty scary. We get that. It is especially hard when a client wants to buy a home in a highly sought after neighborhood. Well that is of course unless you hire the Ziemers. If you have ever had the opportunity to see our marketing presentation, one of the promises we make to our clients is that we will work both HARD and SMART to ensure that our clients needs are met. So what does that look like if a client can't find a home? We have number of techniques that we utilize that produce results for our clients.
Social Media: We have a proven strategy using social media to find sellers that are thinking about selling but haven't listed their homes yet.
Door Knocking: If a buyer has a specific neighborhood that they want to be in we will help them identify homes that meet their criteria. We will then hit the pavement and start talking to these home owners. If we identify a potential home seller, we will preview the home to see if we think it will be a good fit then schedule a showing with our client. Not many agents are willing to do this. We are!
Mailing Campaigns: We utilize a real estate algorithm that helps us identify homeowners most likely to sell their home in the near future. We can then send out mailings that state our desire to preview their home for a client. If a homeowner is thinking about selling then more times than not they are willing to do a one time showing to see if they can skip the hassle of listing their home.
Word of Mouth: As active participants in our community and having lived here for most of our lives, we are able to tap into our expansive network of family and friends to identify if there are homes coming on the market. Don't underestimate the 7 degrees of separation!
Other Agents: There are some agents that work in specific areas almost exclusively. Often times they will have clients that are looking to sell at some point in the near future. We will call and ask these agents what they have coming up and tell them what we have clients looking and would love a pre listing showing. This allows us to get the first shot at putting together a deal before it hits the market and every other buyer is given access to the property.
We have buyers who are already represented by agents that reach out to us directly to ask if we know of any homes coming on the market in specific neighborhoods that they know we specialize in. It is these inquiries that makes me realize that we work a lot harder for our clients than the vast majority of agents out there. If you are in this situation please give us a call. We can come up with a specific plan for finding you the perfect home and work hard to make that dream a reality.
The Ziemers