Thalia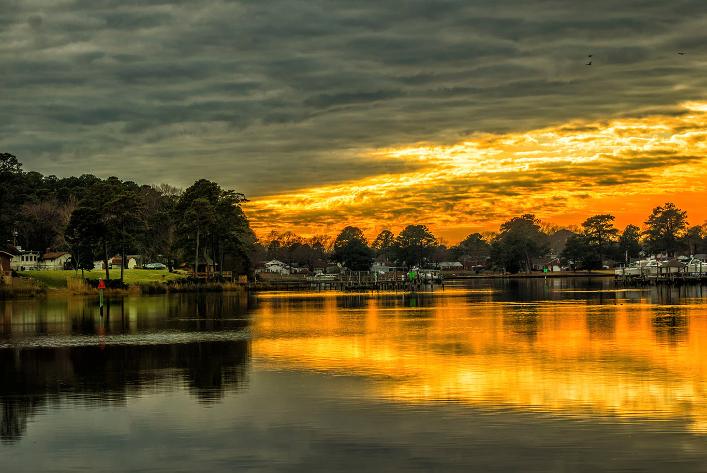 Hidden behind the hustle of busy shopping plazas and fast food restaurants on Virginia Beach Boulevard is the tranquil community of Thalia. Virginia Beach Boulevard, that hectic thoroughfare located less than a block from the neighborhood's entrance, does not affect Thalia's peaceful ambiance or the habitat of the many Canada geese, mallards, herons, and swans that have made the subdivision their home.
A single brick column with black iron accents and a small stand of oak trees greets visitors at the Thalia Road entrance. The second brick column was demolished in 2008 to accommodate an expansion of the adjacent furniture store. Bricks from the demolished column were donated to Thalia Garden Club whose members have decorated them to sell as neighborhood mementos. The area, which contains nearly 850 households and boasts its own man-made island, is rich in history and legend. During World War II, the land housed German prisoners of war in Camp Ashby. The structure housing the current Willis Furniture, which was built in 1937 as a tuberculosis hospital, became part of the POW camp in 1942. The barbed wire, guarded towers and 20- by 100-foot barracks have long since been replaced by brick ranch, colonial, and transitional homes as well as azalea bushes, crepe myrtles, and dogwood trees. A few of the incarcerated German prisoners continue to correspond with local Thalia historians and write of the kindness extended to them by local residents during the prisoners' short stay at the local camp.
A bit of history remains at the end of Thalia Road. Steinhilber's Thalia Acres Inn, one of Virginia Beach's venerable dining traditions, was opened in 1939 by Robert and Marion Steinhilber on the foundation of the burned-out Lynnhaven Golf and Country Club clubhouse. Members of the Steinhilber family have continued to oversee the riverfront restaurant since Robert's death in 1986. Area legends tout that Blackbeard may have sailed the nearby branches of the Lynnhaven River, but no one has yet been successful in finding any treasure that he left behind. Other stories include maps of an airstrip and horse racing tracks along with a house rumored to have been home to a Norfolk madam who wanted to escape the Norfolk city hubbub to live in the more subdued Thalia neighborhood.
Thalia Civic League, a feature of the community since 1953, meets regularly to listen to speakers and discuss ways to improve and preserve the treasured character of the community. Thalia Garden Club also is active in planting the neighborhood's flowers, using seasonal themes, and promoting community projects.
Thalia is a quiet, peaceful, private community, yet it is situated a short 15-minute drive from the beach and only five minutes from the expanded Town Center. Thalia represents the best in family living from active community sports leagues for youngsters to various church and educational events for the entire family.
Community Information:

Zip Code: 23452

Elementary School: Thalia Elementary

Middle School: Princess Anne Middle School

High School: Princess Anne High School

Neighborhood Pool: Little Neck Swim and Racquet Club

Civic League: Thalia Civic League

Cities Plans for the Future: Strategic Growth Plan
Homes for Sale in Thalia - Virginia Beach
December 9, 2023
Neighborhood:
Thalia Village