Best Neighborhoods in Virginia Beach
According to Wallethub.com, Virginia Beach has everything you could want to raise a family; safety, fun things to do and amazing schools. There is truly something for everyone here. There are a number of factors to consider and putting together a prioritized list of wants and needs will help us find you that perfect location and home. We are Virginia Beach locals and we have a wealth of knowledge on local schools, neighborhoods and community organizations. As our client we will provide all of this knowledge to you so that you can make an informed choice on one of the most important decisions a family will make. Please let us know if you would like to talk more about our great area and which neighborhood would be the best fit for you.
---
---
Here is a map of some of our favorite Virginia Beach neighborhoods. We have helped both buyers and sellers in each of these neighborhoods and we would love to do the same for you.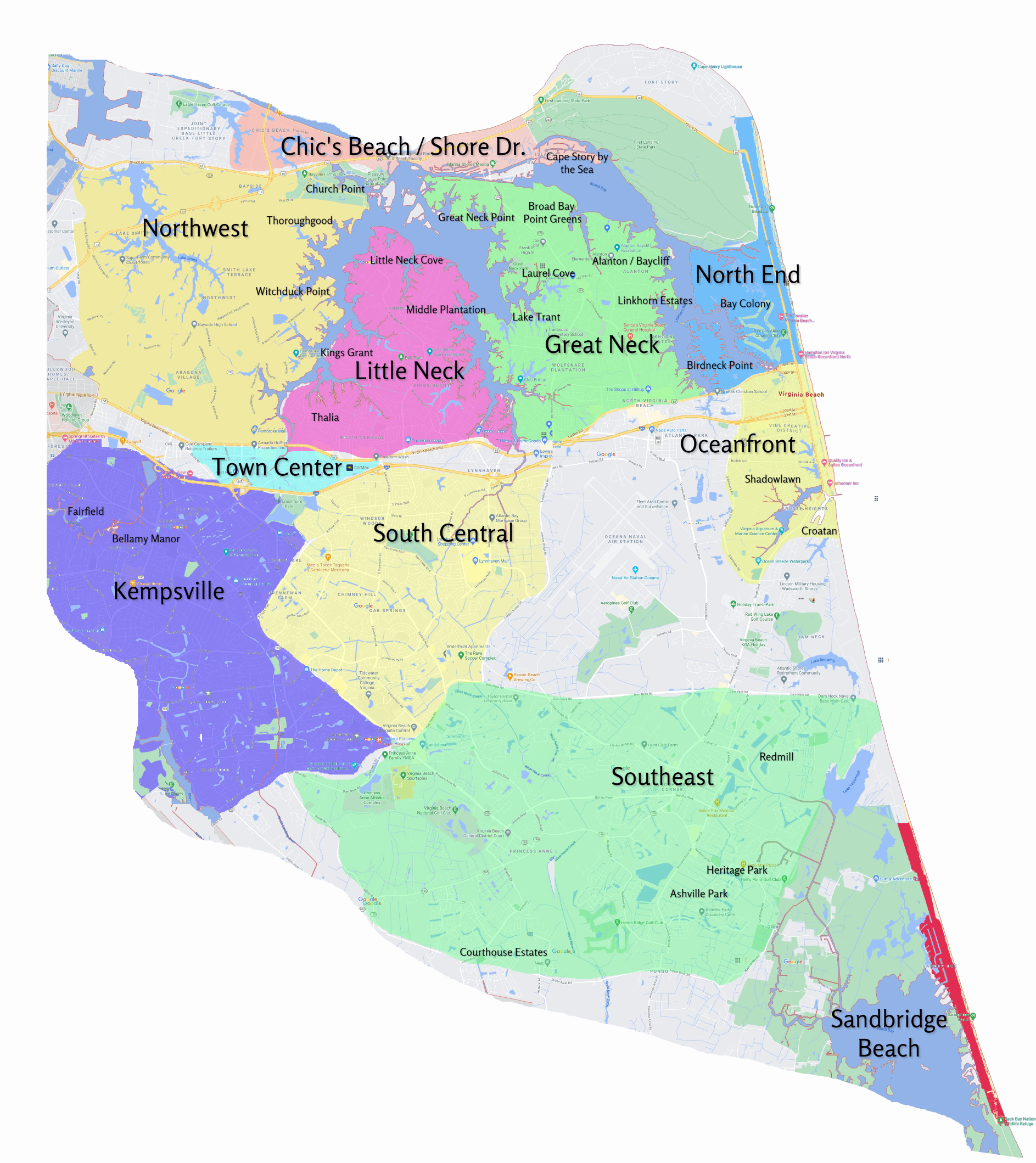 ---
Great Neck - Virginia Beach $$$-$$$$
If you like the water, this is the place to be. Most neighborhoods in this area have riverfront properties available with more affordable homes on the interior. The area is also 5 to 10 minutes from both the oceanfront and the Chesapeake Bay. Shopping destinations include the Hilltop area. Both high schools in this area are ranked highly and are considered by many to be the best in the region. All of this comes at a price, so be prepared to sacrifice on square footage or on purchase price if you want to live here.
Featured Neighborhoods: Alanton, Baycliff, Brighton on the Bay, Linkhorn Estates
---
North End and Oceanfront - Virginia Beach $$$-$$$$
What more can we say other than it is the oceanfront. Every community in this area is a bike ride away from the ocean. In addition, portions of the area are also river front so you can have the best of both worlds. Not surprisingly, some of the most expensive property in the region is in this area. Despite what some may think, there are very quite residential areas that are not impacted by the influx of tourist during the summer months. While many of the lots are on the smaller side having the ocean as your backyard more than makes up for it. The oceanfront is a very tight knit community and is one of the most desired areas to live in the Hampton Roads area.
Featured Neighborhoods: Northend, Bay Colony, Linlier, Croatan, Shadowlawn
---
Chic's Beach / Shore Dr. - Virginia Beach - $$$ - $$$$
The northern stretch of Virginia Beach is what many locals call Chic's Beach. There is some debate on where Chic's Beach starts and ends but to many of us if you are near the Bay you are in Chic's Beach. This area is a locals only beach town. There is not much in the way of tourism and during the summer months the locals flock here to beat the summer heat. There are number of great restaurants and bars along Shore Dr. The majority of this area is a combination of beach cottages and condo's but if you want a more traditional neighborhood there are several to chose from as well and they are all a stones throw away from one of the natural wonders of the world.
Featured Neighborhoods: Chic's Beach, Church Point, Thoroughgood, Baylake Pines
---
Little Neck - Virginia Beach $$-$$$$
This area is often referred to as Little Neck because Little Neck Rd. is the main entry road winding through this desirable community. There are quite a few neighborhoods in Little Neck with a wide variety of price points. The area is a peninsula so there are a number of beautiful waterfront properties.
Featured Neighborhoods: Kings Grant, Little Neck, Thalia, Middle Plantation
---
Kempsville - Virginia Beach $$
This area was one of the original "suburban" communities in the late 70's and early 80's. This area is easily accessible from the interstate making it a central location for people that work in other cities in the area. Since this area is further from the oceanfront and the bay, it offers more affordable housing options. CBN and Regent University are both located within this area of the city. Being that it adjoins the northern section of Chesapeake, this area is convenient to all of the Greenbrier and Great Bridge shopping districts.
Featured Neighborhoods: Kempsville, Fairfield, Bellamy Woods
---
South Central Virginia Beach $$-$$$
Not too long ago this area was nothing but farm land. The area surrounds the City Hall campus and has a number of golf course communities. The commute to the interstate is a little bit longer than other areas, but this allows buyers to get more square footage for the money. In the past 10 years quite a few shopping options have popped up making this a great place to raise a family. It is centrally located within the city so there are a number of recreational activities a short drive away. This area features the newly built Kellam High School. This state of the art high school has made this area one of the more desirable school districts in the city.
Featured Neighborhoods: Courthouse Estates, Christopher Farms, New Castle
---
South East and Sandbridge - Virginia Beach $$$-$$$$
Sandbridge beach is the furthest south beach in Virginia. The beach is a hidden gem amongst vacationers and has a strong local vibe. On the way to Sandbridge you will be in an area that in the past 10 years has produced some amazing new communities. A number of the Home A Rama's have featured homes in these neighborhoods. Most the homes are 3,000 s.f. or larger so if you are looking for a bigger home close to the country and beach, this would be a good option.
Featured Neighborhoods: Sandbridge Beach, Heritage Park, Ashville Park, Lagomar
---
Home Value Key:
$ : $0- $150,000
$$ : $150,000 - $300,0000
$$$ : $300,000 - $600,000
$$$$: $600,000 +
---
Click below to see homes for sale in some of Virginia Beach's more popular family friendly neighborhoods:
Ocean Front: North End, Bay Colony, Shadowlawn, Croatan, Beach Borough
Great Neck Area: Chesopean Colony, Wolfsnare Plantation, Southern Points, Lake Trant, Inlynview, Great Neck Meadows, Laurel Cove, Alanton, Baycliff, The Reserve, Wimbledon, Chelsea, Green Hill Farms, Broad Bay Estates, Broad Bay Island
Chesapeake Bay Area (Chicks Beach) : Church Point, Cape Story by the Sea, Lynnhaven Shores, Baylake Pines, Ocean Park, Aries by the Bay, Chicks Beach
Little Neck Area and Town Center: Kings Grant, Middle Plantation, Bishops Gate, Royal Grant, Thalia
Independence Area: Thoroughgood, Smith Lake Terrace, Lake Shores, Witchduck Point
View all current listings for Virginia Beach homes, or fill out the Contact Form below to get more information about this popular area.
Virginia Beach homes for sale
December 9, 2023
Virginia Beach homes for sale by Price